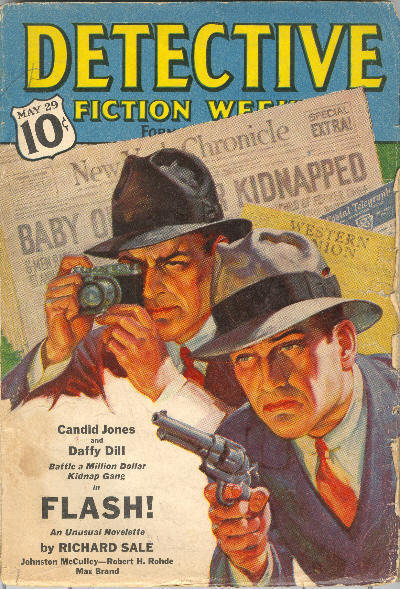 May 29, 1937.
The issue of
Detective Fiction Weekly
with this cover date featured a new story by Richard Sale. It was the first that included both of his most popular characters. Daffy Dill was a reporter and Candid Jones was a photographer and insurance investigator.
Award-winning mystery writer Evan Lewis selected this story for the Mystery Classics section of
the May 2015 issue of
Alfred Hitchcock's Mystery Magazine.
He said that "'Flash!', told entirely through letters, telegrams,news reports, radio bulletins and one-sided phone calls, was one of the most unusual stories in the magazine's long history. And it's a great introduction to the wild world of Richard Sale."
If you want to read it you had better get your hands on the May 2015 issue of
AHMM.
Easier to find than a 1937
DFW.