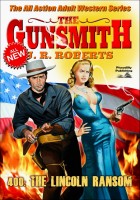 April 1, 2015.
This is crazy. On
April 1, 2015
, that's today,
The Lincoln Ransom
is being published. That is the 400th Western novel in the Gunsmith Series by J.R. Roberts, since 1981. One a month.
For 34 years.
And no, J.R. Roberts is not a house name. It is a pen name for Robert J. Randisi who wrote all 400 of the books. Can you imagine?
You might say that those books are westerns and this is supposed to be about mysteries. Okay, but Randisi has also written dozens of mystery novels and is the founder of the Private Eye Writers of America. So, give the man a hearty congrats. Did I mention
four hundred
books?