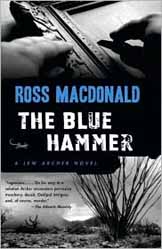 December 13, 1915.
Kenneth Millar was born this day in Los Gatos, California. He grew up in Ontario, but moved back to California. Because his wife Margaret Millar became a successful novelist before he did, he experimented with several pseudonyms, settling on Ross Macdonald (much to the disgust of John D. MacDonald, who felt he was being ripped off).
Macdonald was best known for his novels about Lew Archer, a southern California private eye whose cases usually involved deep dark family secrets from which no one could ever escape. He used clever references to fairy tales (
Sleeping Beauty)
, psychology (
The Galton Case),
and so on to shape his plots. Some people found his work overly emotional and others loved it. One of the latter was the editor of the
New York Times Book Review
who assigned
The Underground Man
to great novelist Eudora Welty. The resulting front page love song put him on the bestseller list from that point on.
The classic P.I. movie
Harper
was based on the first Archer novel,
The Moving Target.