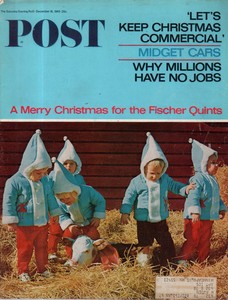 December 18, 1965.
You may think that the famous story "The Lottery" is the greatest piece of short fiction Shirley Jackson ever wrote. You are entitled to your opinion, of course, but you happen to be wrong.
On this date, a few months after the author died,
Saturday Evening Post
published "The Possibility of Evil." It tells of Miss Adela Strangeworth, lovely name, a venerable spinster, and the extraordinary lengths to which she is willing to go to protect the town her family founded.
The MWA gave it the Edgar for Best Story of the year.
They
were right.
You can find it on the web, but I doubt that page is copyright compliant, so I won't link to it here. Find it. Read it. You are welcome.