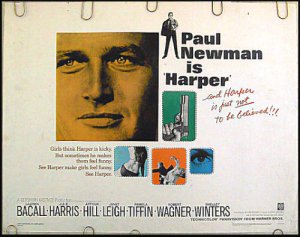 February 23, 1966.
One of the best-loved private eye movies opened today.
Harper
was written by William Goldman, based on Ross Macdonald's
The Moving Target.
His series character Lew Archer became Lew Harper, either because Paul Newman had had two hit movies with names beginning with
H,
or - more likely - because the producers didn't buy the rights to the whole series of novels. Jack Smight directed.
It was a big hit - in spite of that terrible poster - and won the Edgar for Best Motion Picture.