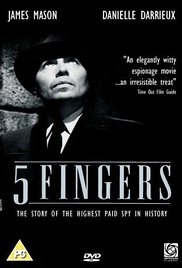 February 22, 1952.
On this day the movie
Five Fingers
premiered. James Mason starred in a story of espionage in Turkey during World War II. It was based on
Operation Cicero,
a book by Ludwig Carl Moyzisch, which told the true story of Elyesa Bazna, a Nazi spy who worked as valet to the British ambassador.
It was nominated for two Oscars (Best Director and Best Screenplay). The MWA gave it the Edgar for Best Motion Picture. I've never seen it. Have you?